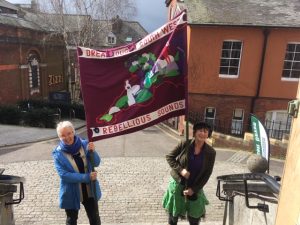 Over the course of touring The Cause and The Rebellious Sounds Archive in 2018, we took the Rebellious Sounds Banner with us to a range of venues and locations.
This included a fantastic walk to commemorate the women who walked from Land's End to Hyde Park on the Great 1913 Women's Pilgrimage.  We did this with a group of individuals led by choir leader Claire Ingleheart.  We all sang Oxygen to the general public under the Land's End sign.  It was a gorgeous day as well for walking along the pilgrimage route and some sea swimming also took place. Thanks to all who joined us on that day.
Having the banner with us at points with the touring work meant we were able to tell the story of its origins, and to honour the women who made it.  It also joined us for our stall at Exeter Respect in 2018 and 2019.  It is a reminder us of the journey made in 1913 by the women of the pilgrimage and the first Dreadnought banner made by Catherine Cartwright and Nicci Wonnacott and a group of women back in 2013.
To date the banner has now travelled from Land's End to Lancashire!
Exhibitions
Walkway Gallery at Exeter Phoenix


February to March 2019.  Funded by the Elmgrant Trust.
Teign Heritage Centre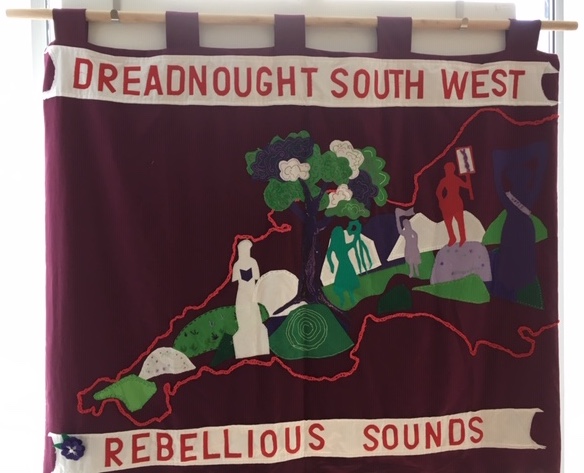 During the Summer of 2018 Teign Heritage Centre welcome the banner to be part of its Vote 100 exhibition, marking one hundred years since some women first gained the right to vote in 1918.  Teignmouth played a huge part in our celebrations in 2013 with the touring show Oxygen, so it was great to be back and to see new heritage materials about the women of the suffrage campaign in this part of Devon.
British Textile Biennale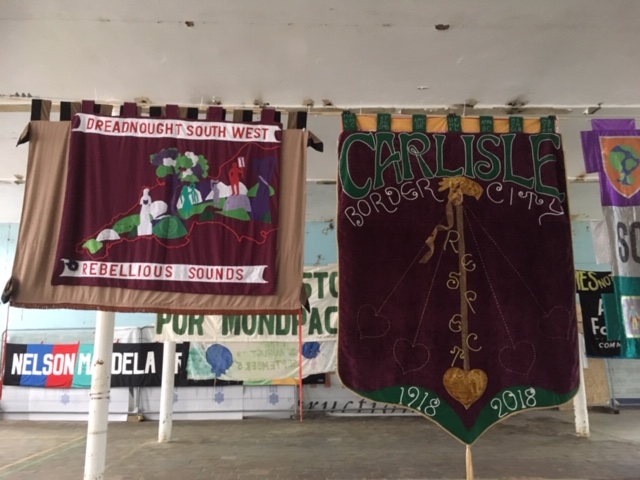 In the Autumn of 2019 our banner travelled all the way to Lancashire for the very first British Textile Biennale. We were unable to go, but we were thrilled to be invited and to be part of the largest collection of textile banners in the UK.
Occupy the Airwaves 2020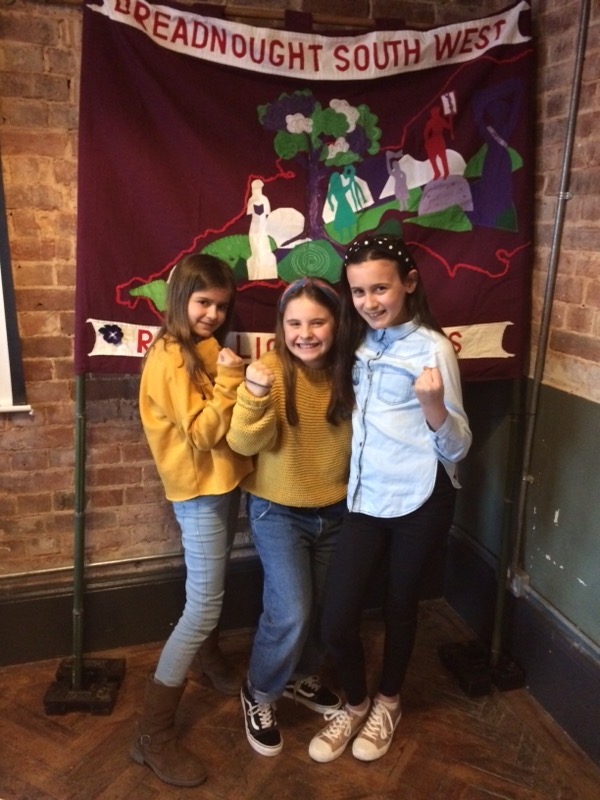 The most recent outing for the Rebellious Sounds banner was on March 8th 2020, International Women's Day.  The banner was part of our celebrations on the day and in the Workshop Space whilst we hosted many women and girls across the day for our annual radio broadcast Occupy the Airwaves.