Nicci Wonnacott works as an Artist/Activist and Art Educationalist. Her practice Title and thesis reflects this as 'The manifesto For Social Change the conjoining of Life, Art and Politics' Her Womanifesto offers a series of slogans, that provide a platform, from which, she use's her body in public space to create art actions, performance, film, and makes sculptural props, which reflect her ideology.
Nicci – I choose to create art work out of white materials, often recycled or natural, with a continuous political content, feminism is a very important element , I also act as a peace maker and use white as a signifier for peace.
White is important in my message, I considers the archetypal figure of The Woman in White, the Jilted Bride, the woman who was let down and left alone by society, from this I have evoked the character The Ghost of Capitalism, who appears in town centres, theatres and galleries to propose Death to Capitalism! (Capitalism as a construction of patriarchy) Always challenging borderlines, war and peace, siting women as, by nature peacemakers. My performances and sculptures are also involved in ritual and reclaiming historical and contemporary political women's voices into public space.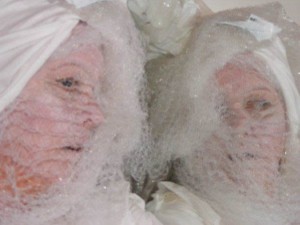 Activism and working with other political women to visualize creative empowerment through meaningful work with displaced and disenfranchised women, encouraging them find a way of making themselves heard and move forward positively is been a big part of my what I am passionate about, which, I contextualise as Art Action. Women and girls struggle is as important today as ever before.
As an educationalist I promote risk, play and freedom.