"beautiful and uplifting" – The Stage
"a 'must see' production for both women and men – especially those who don't bother to go out and vote" – Western Morning News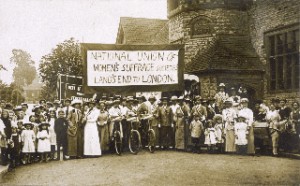 Imagine that fifteen women gather. They have a conversation that maps eight geographic arteries across England (like points on a compass) and Wales. These arteries reach out towards a singular destination, (like roots forming a tree). The destination is Hyde Park. It's June, 1913 and the Great Suffrage Pilgrimage begins.
In Cornwall, women start. Start walking along one of these arteries. Carrying a banner saying: Land's End to Hyde Park.
What they want is to end child poverty.
What they want is to stop the white slave traffic. What they want is to end sweated labour.
But they know they can't do this unless they have the right to vote. So they go where the heat is. To rally. To recruit. To be heard. Showing great courage in the face of opposition. In Cornwall, women start. Walking all the way. Many joining them. Marking border crossings. Singing the same songs. Placing one foot in front of another. Together.
And fifteen women become tens of thousands of people. It is July 26th, 1913. Hyde Park. And the South West women are there. Sharing the same oxygen.
Our forthcoming tour of Oxygen is publicly funded by Grants for the Arts, through Arts Council England.

The Cast (click photos to view biogs):
"it was brilliant … the players really brought home the courage of those women"
"the performance left many people feeling quite emotional and the march to the station has certainly left an impression on Topsham folk"
"How good not to have cliches about women's roles presented onstage. Liked the fact that women were friends and compatriots."
Charlotte Purkis, Lecturer in Drama (Winchester University)
Photographs taken by Tommy Sussex at Malcolm X Centre, Bristol – 12/07/13