Friday 8th March, 2019
This is our fourth year of hosting Occupy the Airwaves and our third of it running from 8am until Midnight on International Women's Day. That's 16 hours!!
We are continuing our collaboration and partnership with Phonic FM and Exeter Phoenix to ensure that this marathon community radio broadcast can happen once again, bringing a wealth of new voices to local radio.
We are really excited about this year's connecting thread: Women Making Noise!
All of the programme hosts will be responding to this in some way.
2019 Programme:
8am – 9am

Waking up to International Women's Day – hosted by Kerrie Seymour
Thought for the Day with Neomi Alam.

9am – 10am

Women Who Sing! – hosted by Cathy Towers with live music

10am – 11am

Women of The World

  – hosted by Eleanor Spencer

11am to Midday

Mothers Who Make – hosted by Lizzy Humber

Midday – 1pm

Women Celebrate Making Noise – 

hosted by Mary Lidgate

1pm – 2.30pm

New Projects Making Noise & Access to the Arts – hosted by Gillian Taylor (1-1.45pm) and Amerie Rose (1.45-2.30pm)

2.30pm – 3.30pm

Growers, Maker, Brewers – hosted by Michelle Ridings

3.30pm – 5pm

Rebellious Sounds Archive Women & Activism – hosted by Carmen Talbot & Mary Culhane

5pm – 6pm

Reclaim the Night – hosted by Mandy Barnes & Nicola Jeffryes

6pm – 8pm

Young Women Making Noise about Climate Change, with guests from Extinction Rebellion movement, Youth Parliament and others – hosted by Kerrie Seymour

8pm – 9pm

The Power of Sharing – hosted by Sharifa Hashem

9pm – 10pm

The Menopause Collective – hosted by Nicki Glassbrook

10pm – 11pm

Hosted by Eleanor Spencer

11pm – Midnight

The Late Show LGBTQ+ Women in Music
In the Workshop Space during the day at Exeter Phoenix: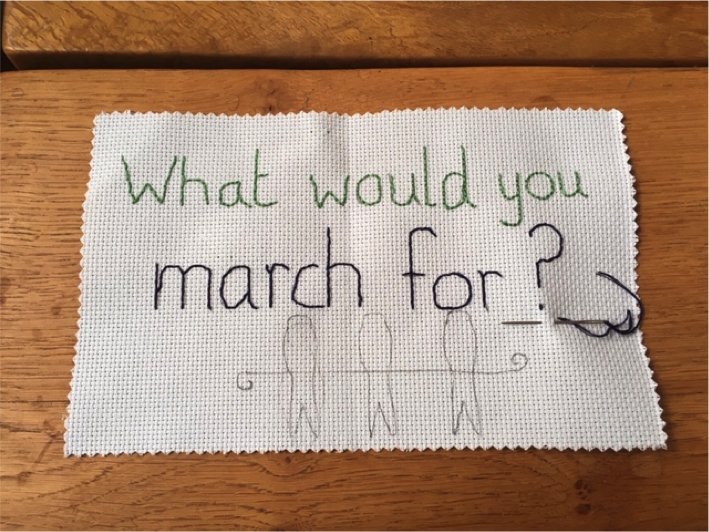 ---
Chair of Trustees Anne Barnes and workshop leader Kerrie Seymour will be hosting a mini-banner making workshop from 10 am onwards in the Workshop space. This is a drop-in event which is free. Come and make your own International Women's Day mini-banner. Join in, connect and have a conversation about women making noise. Make links to the Rebellious Sounds Banner making exhibition in the Walkway Gallery at Exeter  Phoenix, by producing your own banner. You can see the exhibition until 10th March.
There will also be badge making – only 30p for all badges made! There will also be an opportunity to make rant and rave recordings – so watch out for this too.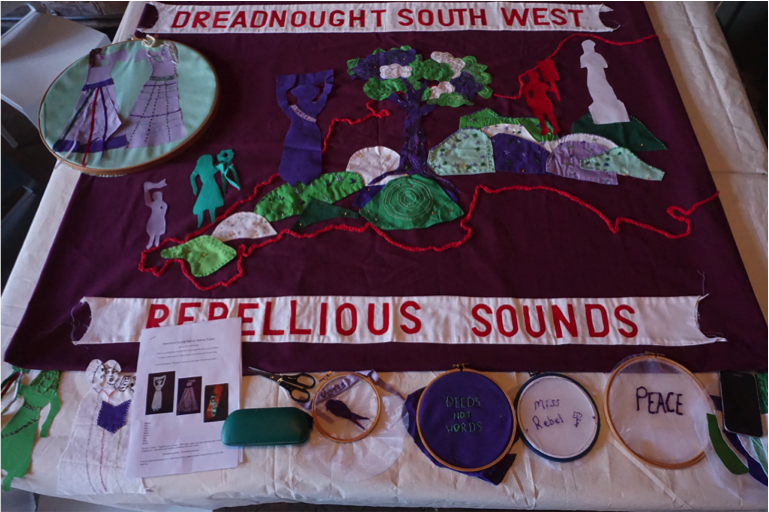 ---
Transcribe a line for the Rebellious Sounds Archive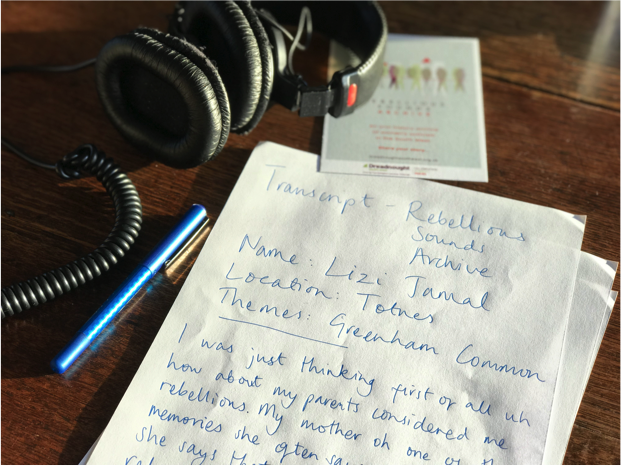 Help to tell the herstories in the Rebellious Sounds Archive of women's activism by joining Project Coordinator Carmen Talbot on International Women's Day (8th March 2019) to transcribe a line from a woman's story of activism. We'd like to see how many of the stories we can crowd-transcribe together on the day.
Headphones, writing materials and a short guide to transcribing will be supplied on the day – just bring a bit of focus and a willingness to help share an important story.
Come along and join us!
Our Rebellious Sounds Archive will be at Exeter Central Library from the 6th of March until the 31st of March 2019.
---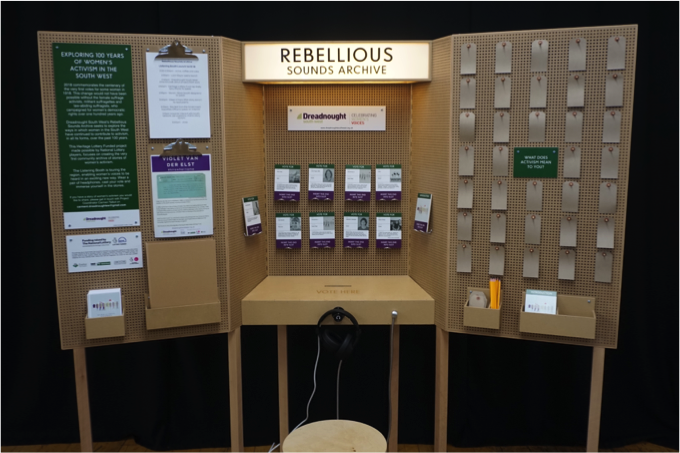 ---
Occupy the Airwaves 2019 is funded by Exeter City Council, Devon County Council Locality Budgets, Neal's Yard Exeter, No Guts No Glory design, The Cutting Room.
Food is provided from Real Food Exeter, Herbies, Seasons, Shillingford Organics, Quickes Cheese, and Boatyard Bakery. Massive thanks to all of these. If you would like to sponsor this event in 2020 when Occupy the Airwaves will be five years old then please do get in touch here: info.dreadnoughtsw@gmail.com
Thank you to Exeter Phoenix for providing the Workshop Space again, and Phonic FM Exeter's Fantastic Community Radio for supporting this event. Thank you also to Exeter Central Library – Libraries Unlimited for supporting the Rebellious Sounds Archive Tour.
---
---