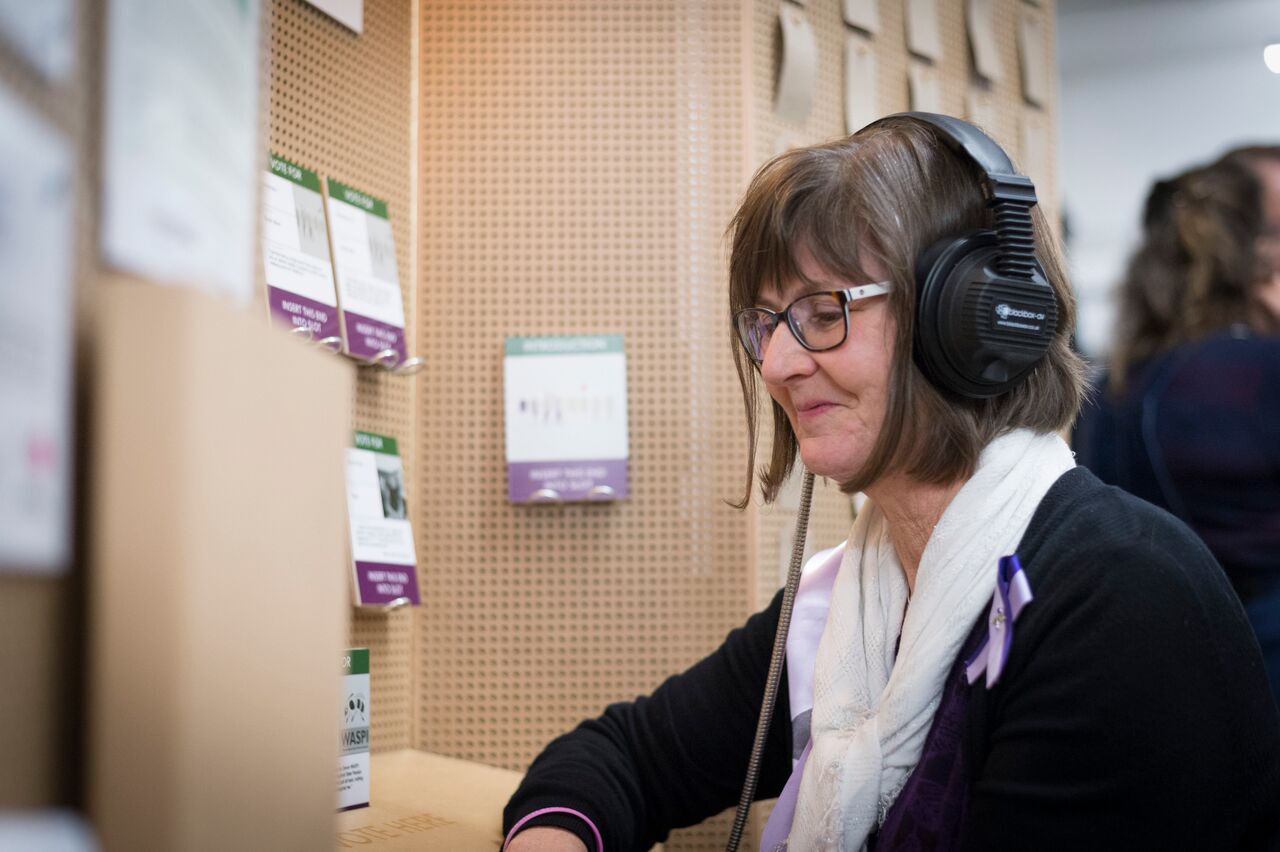 Above: experiencing the Listening Booth at Exeter Phoenix, February 2018. Photography by Theo Moye.
Dreadnought South West have commissioned the design and build of a very special mobile exhibition space. Known as the Listening Booth, it is deliberately designed to look like a voting booth to remind users of the centenary of the right to vote for some women. Excerpts from the oral histories collected for the Rebellious Sounds Archive have been loaded on to interactive voting cards. Listeners put on a pair of headphones and choose a voting card to place in the slot; this will play their chosen story of women's activism.
Spring/Summer 2018
23rd February – 16th March
Listening Booth resident at No1 Royal Crescent, Bath
14th April – 26th April
Listening Booth resident at Cornwall's Regimental Museum, Bodmin
1st May – 9th May
Listening Booth resident at The Forum, University of Exeter, Exeter
12th May
Listening Booth resident at Exeter Pride, Exeter
14th May – 25th May
Liskeard Methodist Church
26th May – 3rd June
Listening Booth resident at House of Fraser, Plymouth for Plymouth History Festival
8th June – 22nd June
Chippenham Museum, Chippenham
Record your story! On the 15th and 22nd June there will be bookable oral history recording spots to record your story of activism. See more information and booking here: https://www.eventbrite.co.uk/e/rebellious-sounds-archive-record-your-story-chippenham-tickets-46718433091
30th June – 8th July
Listening Booth resident at M-Shed, Bristol
30th June – Votes for Women | M Shed. The Listening Booth is part of a day of activities, talks and walks celebrating the anniversary of first votes for some women at M Shed, Bristol. Find out more here: https://www.bristolmuseums.org.uk/m-shed/whats-on/votes-women-100/
13th July – 27th July
Listening Booth resident at Hypatia Trust, Penzance
August 2018
Listening Booth exhibited at Westminster Hall, Parliament, London
Autumn/Winter 2018
1st September – 14th September
Taunton Museum/Weston Museum – Somerset
17th September – 28th September
Shire Hall, Dorchester
8th October – 12th October
Dartington Hall, Devon
13th October – 14th October
WOW Festival Exeter – RAMM
22nd October – 3rd November
Teign Heritage Centre, Teignmouth
26th November – 9th December
Devonport Guildhall, Plymouth
The Listening Booth will be travelling around the South West (and beyond!) in 2018 and 2019. If you would be interested in hosting the Listening Booth for a week or more then please get in touch with Project Coordinator Carmen Talbot on carment.dreadnoughtsw@gmail.com.
---
Funded by: