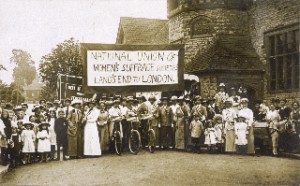 Dreadnought South West Association is a new organisation that works with arts and heritage to champion women's voices and stories. Our first major project celebrates the centenary of The Great 1913 Suffrage Pilgrimage and asks, 'What is important to women today'?
We will tour a new play, 'Oxygen', performing at many of the stopping places along the South West route of the original Pilgrimage (see Oxygen & Tickets). There will be responding arts and heritage waymarker projects taking place and a series of land journeys connecting the region from Land's End to Marlborough in Wiltshire, ensuring that women's voices are heard across the SW in 2013 (see the Oxygen Online Map)
DSW is supported using public funding by Arts Council England and has over 100 other partners (individuals, groups and organisations) who are supporting us.