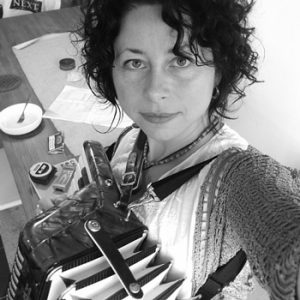 Musical Director, Multi-Instrumentalist, Choir Director, Workshop Leader, Associate Lecturer.
Shows with Wildworks Theatre: Musical Director for Babel, The Passion with Michael Sheen, Beautiful Journey Plymouth and Newcastle. Musician in Souterrain in Colchester and Hastings. Musician and choir leader in Souterrain Cornwall.
Other work, starting with most resent:
Associate Lecturer in Music Theatre at Univercity Falmouth. Musical Director and performer 'Imagine That' National Theatre. Musical Director for 3 community choirs Cornwall (ongoing). Musician 'The Underbelly' funk band signed to Record Kicks. Musician 'Braga Tanga' Klezmer and world music. Musical Director Communtiy Youth Choir supporting Peter Gabriel. Musician on sound track for 'Taming of the Shrew' and 'Government Inspector' for Miracle Theatre. Musician and performer in 'Papa, Please Get The Moon For Me' Travelling Light Theatre. Musical Director and workshop leader Central Television Workshop's productions of: Burying your Brother, Dark of the Moon, Measure for Measure, Last in the Sack Race, A Midsummer Night's Dream, The Chrysalides, The Midwich Cuckoo, Equus and Hiawatha. Musical Director for short film "Tim Evans LLB'. Musician and maker 'Fergal's Folly' Dodgy Clutch Theatre. Musician and maker 'A Strange and Unexpected Event' Horse and Bamboo Theatre. Musical Director, performer and maker 'Visions of Hildegard' and 'Roses and Castles' Horse and Bamboo Theatre.
A multi-instumentalist musical magpie who plays: tenor, soprano, alto and baritone saxophones, clarinet, vocals, flute, piano, accordion, melodica, harp, penny whistle, percussion, glockenspiel, busilacchio….
Other work: Music Specialist and Training Facilitator in using music to develop language, communication and interaction for children with Autism.