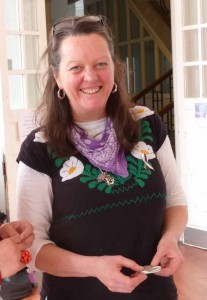 Nicci works as a political artist, practicing in art action and the manifesto through performance, participation and mapping the body. Working in text, film, theater, textiles, drawing, sculpture, photography and in sonic arts; to create social commentary, documentation and exhibition.
Nicci reflects on ritual and peace, sometimes paying homage to political women, resurrecting their words back into public space as an act of re-enchantment. The archetype of the woman in white is a recurring theme, which manifests as feminist discourse.
As a freelance lead artist/educator and creative consultant Nicci visualises and directs partnership projects and works as a lecturer, tutor and mentor within Fine Art education. As co-founder of International Women's Art, Nicci has directed International Women's Day events in Exeter with Catherine Cartwright.